Just found Shawn Christian on Episode of Ghost Whisperer "Cradle will Rock" as Wyatt Jenkins.
I watched all those episodes and it never dawned on me until now that was him!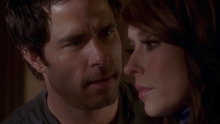 That's when I looked up at my Dad who had on a repeat of Will and Grace and who's on the screen: Shawn as Travis – Episode Cowboys and Iranians.  Couldn't believe it!
So I started to think…hmmm I know I've see him somewhere else before….then it hit me "Charmed"
He played the boyfriend of Piper that I didn't care for!
Then I remembered I had seen him somewhere else younger, he reminded me of one of the Village People…yep found him…it was on one of Ellen's episodes
My mom also remembers him from Boston Legal and CSI. Then I said "Mom wasn't he on Las Vegas with Josh Duhamel? She's like I think he was and whamo
I watched him in Summerland which was my first "I knew him from"
Now I just LOVE him as Dr. Daniel Jonas!~